Random Post:
Another EarthBound Promo Video Unearthed
Popular Posts:
None found

January 28th, 2012 | Auctions, Events, Itoi, MOTHER 1+2, Videos
Last week I posted some neat MOTHER 2-related swag on eBay, and this week I'm listing something even more epic: a copy of MOTHER 1+2 signed by none other than MOTHER/EarthBound series creator Shigesato Itoi himself!
I'm also including a bunch of other really rare items from the official MOTHER 1+2 event held in 2003, check it all out here!
Here's Itoi signing boxes prior to the event – as far as I know this is the only one that's ever been made available outside of Japan.

The full listing includes everything here: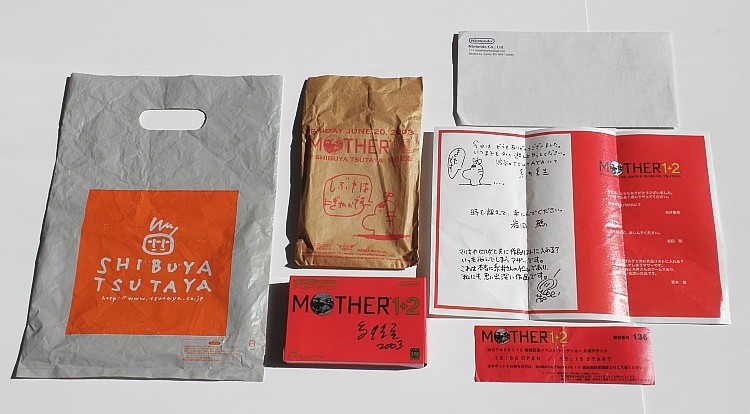 I also took more photos than even Mr. Fuzzy Pickles would have – see them and all the juicy details here!
If you're not sure what the MOTHER 1+2 event was, a good Japanese write-up (with pics) about it is here. I also subtitled this short documentary video about it a few years ago:
That reminds me that someday I really need to sit down and subtitle the whole talk show portion of the event. Most of the cool info is in the video above, though.
Anyway, I have more interesting stuff (some from this event and some not) I'm going to auction off down the road, so keep your noses peeled! In the meantime, you can check out some of my other EarthBound/MOTHER goodies here!
18 Comments to Itoi-Signed MOTHER 1+2 for Sale!