Random Post:
EarthBound and Quarter Circle Jab
Popular Posts:
None found

March 16th, 2011 | MOTHER 1, Uncommon Knowledge
I'm not sure if this is common knowledge or not, but the character in MOTHER 1/EarthBound Zero we commonly call "Ninten" wasn't actually called that officially… originally, anyway.
Technically, whenever his name needed to be used in official guides or whatnot, he was usually simply called "Boku", which is Japanese for "Me" – the idea being that YOU'RE supposed to name him, he didn't have a predetermined name at all. When the official MOTHER 1 novel came out, obviously the author had to give him a name, so she called him "Ken", which is what many Japanese fans know him by.
So where did Ninten come from? Well, basically, during the 90s, it was common for Nintendo to use "NINTEN" for default names in its Japanese strategy guides and manuals. This included MOTHER 1 guides of course, but also included other games, one example is the instruction manual for Zelda: Kamigami no Triforce (Japanese version of Link to the Past):

(image courtesy of zeldalegends.net)
All the "ニンテン"s you see there are "NINTEN". Basically, it was just Nintendo manual/guide people having fun. Kinda like how I always seem to use "TOM ATO" in my own project screenshots: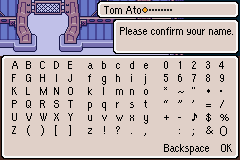 From what I can gather, Japanese fans didn't pay much attention to this "Ninten" name used in some guides, but at some in the late 90s that changed. I'm not really sure why, maybe it was connected to the EB0 ROM getting leaked, or maybe it had something to do with Smash Bros. 64 guides mentioning that his name was "Ninten", which is what I've read on some sites, but I don't know why that would be the case.
In any case, many years later, Smash Bros. Brawl came out, and he was referred to as "Ninten" there. Well, in the English version anyway, I'm not sure what they call him in the Japanese version.
Then, mostly recently, he was called "Ninten" when he was released in figure form in Japan:
Though it's probably important to point out that the names used on other figure boxes haven't exactly been perfect.
As for how he came to be known as Ninten outside of Japan, it seems like it happened very shortly after the EB0 ROM was released. Someone must've seen one of the guides that used the Ninten placeholder text and went with that, though if anyone knows more, let me know. I do remember that for a short while everyone called Teddy something like "Jack" instead. So there was a short period of uncertainty at least.
To sum it all up, the main character in MOTHER 1 has FOUR names:
The name you, the player, give him
Boku
Ken
Ninten
Whew. Anyway, that's a look at the weirdness behind his name!
---
Loading ...
74 Comments to Ninten isn't Exactly Ninten