May 10th, 2016 | EarthBound, Itoi, Videos | 8 Comments
The guys behind "Gaming Show [In My Parents' Garage]" recently posted a video that involves EarthBound's creator, Shigesato Itoi:
This is pretty cool, and I especially like how Itoi played along with the silliness of it all.
April 28th, 2016 | Images, MOTHER 3 | 22 Comments
Multiple people sent this my way – apparently someone was holding up a "LOCALIZE MOTHER 3" sign during a recent WWE SmackDown wrestling event:
I don't know any details beyond that, so if anyone has any more info or pics/videos lemme know!
April 19th, 2016 | MOTHER 1 | 5 Comments
A group of passionate EarthBound fans has come together to produce a documentary about EarthBound Beginnings, its history, the prototype cartridges, the eventual official release, and more.
The title is "Mother to Earth" and the project looks genuinely impressive. The team has even lined up interviews with key individuals including the game's head localizer and the people involved with the prototype's leak in the late 1990s!
The documentary guys need help funding this endeavor, so they've created a small Kickstarter here:
You can also check out the official site here and follow the project on Twitter here!
April 10th, 2016 | MOTHER 3 | 6 Comments
A French fan translation of MOTHER 3 is set to be released on April 20, which will also mark the 10th anniversary of the game's release in Japan. The team has put together a promo video for the translation:
The translation will be available here when the fated date arrives.
April 7th, 2016 | Events | 2 Comments
Last year was the first-ever Camp Fangamer, and it turned out to be an amazing, memorable, once-in-a-lifetime event. So I was surprised when I found out that a Camp Fangamer 2016 is happening this July!
This year's event is going to last for three days, one more than the last one. Tickets are available on Fangamer's site here at a variety of levels – apparently you can even get something called a "Winternship".
If you missed the 2015 Camp Fangamer, it had all your standard convention stuff – panels, a game room, guest speakers, vendors, and more. But it also featured an EarthBound theme, a goofy charity game show that lasted all weekend, and a strange, convention-wide story line that developed over the course of the weekend:
It was a ton of fun, surreal, and unlike anything I've experienced before. I suspect Camp Fangamer 2016 will feature a lot of the same creative energy that 2015 had, but with new twists of its own. I don't know if a theme has been announced yet, but it looks like the story line is already beginning:

(don't worry about the Kickstarter stuff, that was part of the story from a few weeks ago)
Poe and I expect to be there again this year too, so if you're interested in Camp Fangamer 2016 check out the official site!
Tickets start at $85 for all three days and they include some more genuine "swag bags"!
March 24th, 2016 | EarthBound | 32 Comments
EarthBound has just been released on the New 3DS Virtual Console in North America! If you happen to have a New 3DS you can get the game for $9.99.
EarthBound on the Wii U cost a few dollars more than other Super NES games on the Wii U Virtual Console, so I was curious to see if the New 3DS version of EarthBound would have a price difference too. It does – other Super NES games on the New 3DS are $7.99:
I wonder why EarthBound is consistently more expensive. Anyway, if you have a New 3DS and want an official way to play EarthBound on the go, this is it!
(Also, to clear up any confusion: normal 3DS and 2DS users can't get the game though, it's only available on the "New 3DS".)
March 20th, 2016 | EarthBound, Merchandise | 3 Comments
I think I might've reported on this a few months ago but I can't remember. In any case, a new set of MOTHER 2 figure straps is available in Japan starting this month! You can get them for 200 yen apiece at special capsule toy machines. There are seven types in all:
Ness
Paula
Jeff
Poo
Dr. Saturn
Pokey
Starman DX
If it's anything like previous times, you'll be able to import a complete set from sites like NCSX or eBay before long. So even if you're not in Japan, you'll still have a shot at getting these!
March 16th, 2016 | EarthBound, Hacking, MOTHER 3 | 10 Comments
A gamer by the name of Ryan has been working on modifying Paper Mario: The Thousand Year Door by replacing art of different characters and objects into EarthBound-related content: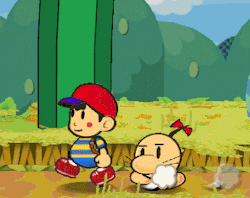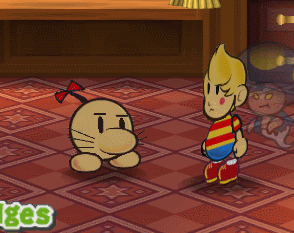 It looks like the project is making strong progress, so check out more info and pics here if you're interested!
March 4th, 2016 | EarthBound, Videos | 26 Comments
There was a Nintendo Direct yesterday, and it was announced that Super NES Virtual Console titles would soon be made available for the New 3DS. And later this month, EarthBound will be one of the first titles available in North America!
The game has already been made available in other regions, though – you can get it on your New 3DS if you live in Europe for example. MOTHER 2 is also now available on Japanese New 3DSes. I don't have one myself, but I do have a normal Japanese 3DS so I was at least able to check out the promo video out of curiousity:
Also, to commemorate the release Shigesato Itoi posted a page on his site here, which is mostly snippets of text taken from older MOTHER series content on the site.
March 2nd, 2016 | EarthBound, Uncommon Knowledge | 31 Comments
A couple months ago I released my very first Legends of Localization book – in it, I explore the localization for the original Zelda game, as well as related merchandise, marketing differences, and more. If you're a Zelda fan, a retro gaming fan, or even just someone interested in obscure game trivia, it's right up your alley. (BTW, if you request it in the order comments Poe and I will gladly sign your book for you!)
Anyway, now that the Zelda book is done, I've turned my focus onto the next book: EarthBound! Planning for the book is underway and I've already begun the writing process. It's going to be much more in-depth than my online version and will include many new topics. It's already looking to be twice the size of the Zelda book!
It's going to be so in-depth that we've even been researching the details behind the scratch n sniff campaign.
On a lark, I was like, "Hey, wouldn't it be neat to include scratch n sniff samples as a bonus?" The fan response was intensely positive, so we've been looking into the feasibility of making this happen. And during our talks with companies in this industry, we were told:
"The scents that were used in the 90's have been banned due to chemical compliance."
Holy crap!
Anyway, the point of all this is that I want to make sure that this EarthBound localization book covers as many interesting topics as possible, so if you have a question or a topic you'd like me to cover, let me know here in the comments or send an e-mail to earthbound@legendsoflocalization.com
Also, you can sign up here to be notified when the book is released!
We're currently aiming for a release a few months from now. Hopefully I'll be able to cover lots of interesting topics from readers that I wouldn't have thought about myself!